SPORTS
Cristiano Ronaldo And Marcelo Fought When They First Met And This Is Why
The friendship between Ronaldo and Marcelo is well known that they are very close, but it wasn't always like that.
During and interview, Marcelo said "The first time i saw Ronaldo we ended up fighting in an international fixture." (Source: BeSoccer, 2018)
Ronaldo actually had his hand around the Brazilian player's neck within minutes of their introduction. But what happened? I would explain today.
In 2008, Brazil had a match against Portugal and it was considered as a must win match. At the time Brazil were struggling in front of goal and it was so bad that they had failed to score in 5 of their previous 7 outings.
Their was so much competition going around that the match was tipped as the most intense match of the year.
Kaka who had won the Golden Ball award the previous year was going against the man who was tipped to take his crown.
Ronaldo was on top form, he had scored 42 goals in 49 appearances for Manchester United and he had also won the Champions League.
The rivalry was even more intense because Marcelo was an upcoming wing back who was going to play at the same wing as Ronaldo.
Marcelo needed to be on top form so he could impress everyone around.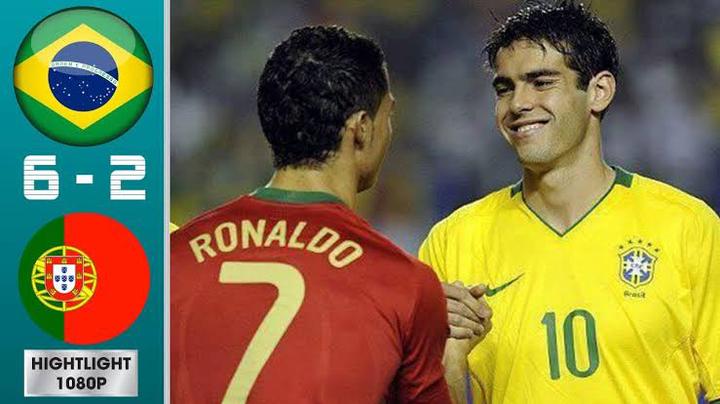 The match was underway and Ronaldo couldn't make a huge show and it wasn't different for Marcelo was not in the starting lineup.
Brazil were leading the match 2-1 at the break and they found the net 3 more times before the 70th minute. Ronaldo's head had gone and he was shooting from improbable angles.
Finally the frustration that had been building up was poured on Thiago Silva who almost collided with Ronaldo.
Thiago said "Ronaldo's a malicious guy and if i hadn't jumped out of the way he would have broken my leg. He just lost it because we snuffed him out of the game."
Marcelo was introduced into the last 10 minutes of the game and before Brazil could score another goal and condemn Portugal to a 6-2 defeat, Ronaldo was at Marcelo's throat.
Marcelo said "Ronaldo was out of order and a big mouth. He elbowed me off the ball, then tried to have a shouting match about it."
If you had seen the video live, you wouldn't have believed that they would become very close. Ronaldo and Marcelo met at Real Madrid and they won 4 Champions League, 2 La Liga, 2 Copa Del Ray and 3 Fifa World Club Championship.