SPORTS
Benfica's Lineup If They Hadn't Sold Their Best Players
Darwin Nunez has joined the elite list of Benfica's most expensive departures after Liverpool acquired his services for 75 million Euros.
Benfica has sold many talented players in the past, some of the players were sold for over 40 million Euros.
However, Joao Felix remains Benfica's most expensive sale in football history. Despite failing to win the Portuguese League this season, Darwin Nunez scored over 40 goals for his club and will now continue his career in Liverpool next season.
The image below depicts how Benfica could have line up if they had kept their best players.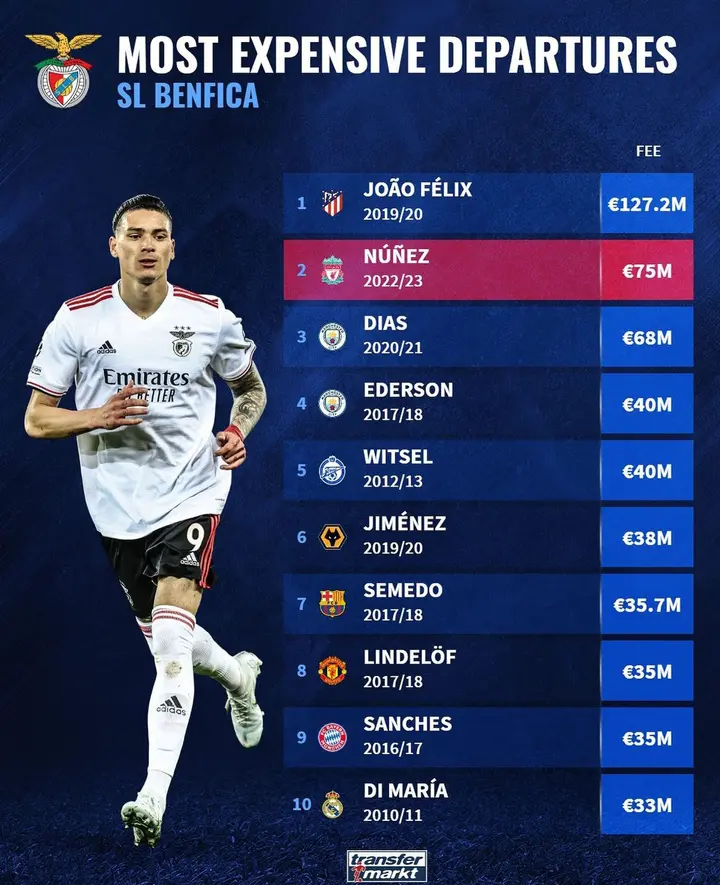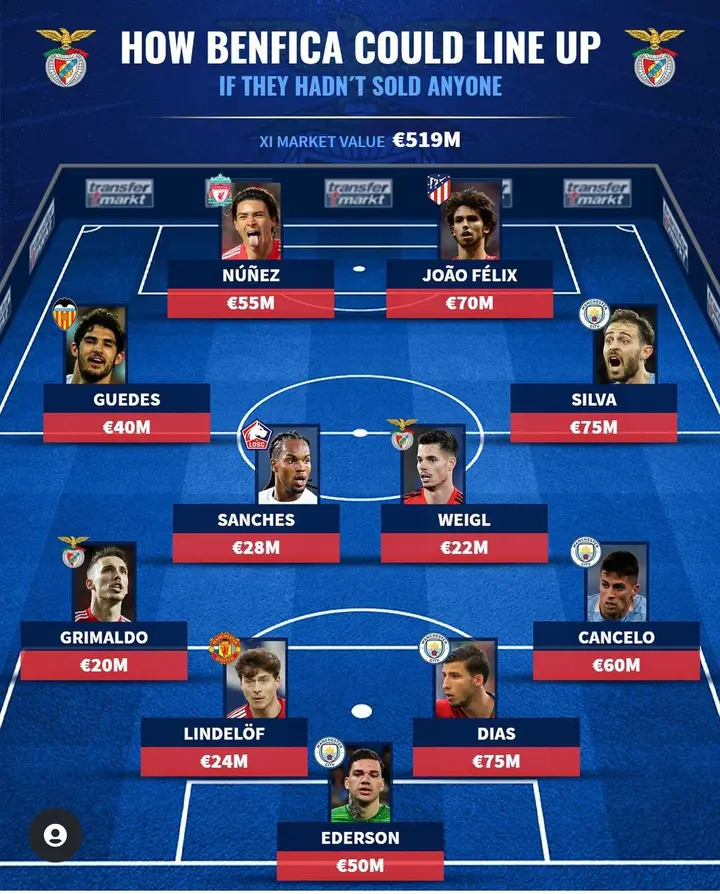 How Benfica Could Lineup If They Hadn't Sold Anyone.
Goalkeeper: Ederson Moraes
Defenders: Victor Lindelof, Ruben Dias, Joao Cancelo and Grimaldo
Midfielders: Weigl, Renato Sanches, Guedes and Bernardo Silva
Forwards: Joao Felix and Darwin Nunez
INSIGHT
Four of the players on the image are currently playing for Manchester city. Bernardo Silva, Ruben Dias, Joao Cancelo and Ederson Moraes are the players in question. All of these players had won the Premier league title with Manchester City.
However, Nunez will playing for Liverpool who won the FA Cup and League Cup in the 2021/22 season. Victor Lindelof who made fewer appearances for Manchester United this season under Ralf Rangnick, was once a Benfica player.
There is no guarantee that Nunez will be a success at Liverpool and this is because Joao Felix has failed to live up to expectations despite helping his team to win the La Liga title in the 2020/21 season.
Benfica are yet to sign Nunez replacement but there is a possibility that they could replace him with one of their youngsters.
Nevertheless, Sanches who currently play for LIlle is one of Benfica's talent that is not living up to expectations.