SPORTS
Barcelona Persuade Chelsea Target To Delay Transfer Decision
Barcelona is trying to have the signature of Brazilian winger Raphinha but it is getting complicated. There are many factors that are working against the Blaugrana. One of them is the arrival of Chelsea.
The London club are going all out for the Brazilian and have made a lucrative offer to Leeds for the player. They are willing to pay 60 million euros.
Meeting with the player's agent
In view of this situation, Deco, the player's agent, had meetings on Wednesday and Thursday with the Barcelona directors to explain the situation.
The player has had an agreement with Barcelona for some time, but there have been no further steps to sign him.
Chelsea's offer forces them to make a move and this is where Barcelona's second problem comes in, and that is that they have no money because the second economic lever, which is the main tool they need to sign the player, has not yet been triggered.
Waiting time
The Catalan giants have at least got the player's word that he will stick to his decision despite pressure from other clubs.
Raphinha wants to play for Barcelona and this is the main guarantee that they have.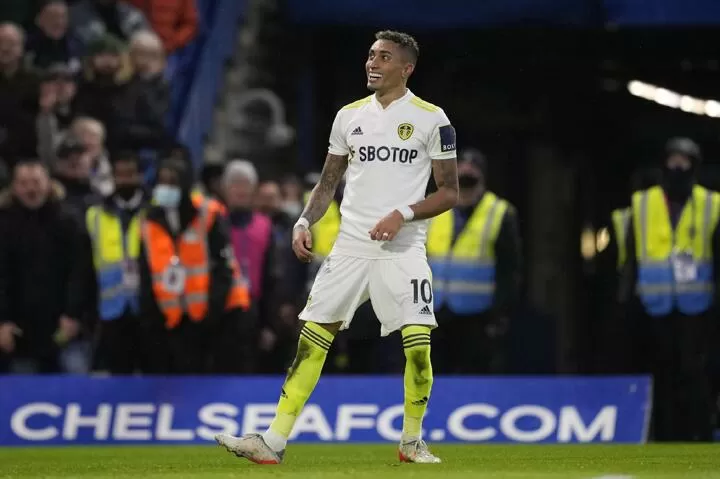 Therefore, the player has agreed to wait a little longer to see if Barcelona can come up with the money.
Time is against Barcelona
The question is how long the player will wait. It is one thing that he wants to come to the Camp Nou but it is another that he misses out on any chance of going to a bigger club than Leeds.
Because as of today, no one can guarantee that the Catalan club will end up getting the money to sign the player.
Especially as the first on the list is Lewandowski and any new funds will first be used to bring in the Pole.
Barcelona have at least managed to win this battle. They have convinced Raphinha and Deco not to accept Chelsea's offer immediately and give them some room for manoeuvre.
Everything will depend on the ability of the board of directors to find new financial resources.