SPORTS
5 Elite Players Whose Market Value Dropped Between 2021-22
Lionel Messi did not hit the heights expected of him during his first season at Paris Saint-Germain.
The Argentine was expected to run riot in Ligue 1 after making the move from Barcelona to PSG.
But, he had a disappointing campaign by his standards, scoring 'just' 11 times and recording 15 assists in 34 matches.
His struggles mean, per Transfermarkt, his value has dipped by £27m over the course of the 2021/22 season.
But who else has seen their transfer value plummet?
Using Transfermarkt, we've listed the 5 players whose market values have dropped the most since the start of the 2021/22 campaign.
1. Antony Martial
The player was simply a joy to watch in 2021 in a Manchester United shirt, especially in the earlier part of the year. He showed that he could be a starter for Manchester United.
He however fell off the pecking order in 2023, especially after the introduction of star player Cristiano Ronaldo into the Manchester United squad.
His market valuation fell from €45M in 2021 to €16M in 2022 especially when he was still with Sevilla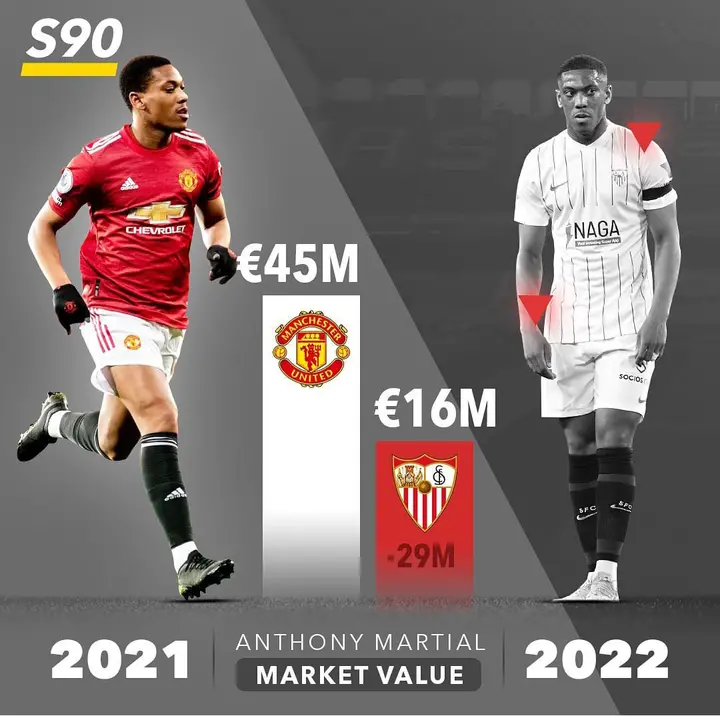 2. Lionel Messi
Lionel Messi is one of the best players in the world and it is difficult to mention all-time greats of football without mentioning the star player.
He has 7 Ballon D'or to his name
It however seems as if age is gradually telling on the player market valuation.
He fell from €80M to €50M in 2022. This is probably due to changing from a league where he was the star man to where he has a lot of star players around him.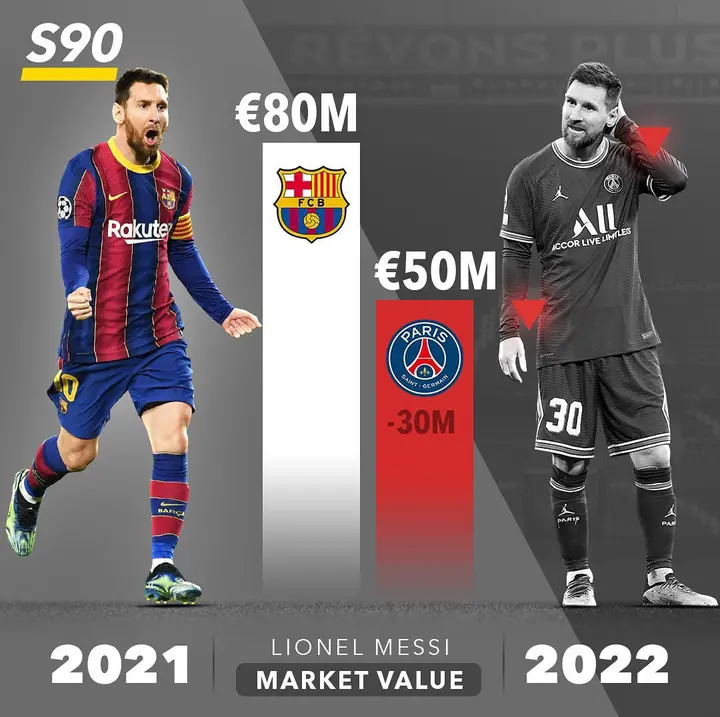 3. Ter Stegen
The German international is one of the best goalkeepers in the world and has been pivotal to Barcelona's success in La Liga.
He is however not his best self in the current year and this had an impact on his market valuation.
He fell from 60M to 30M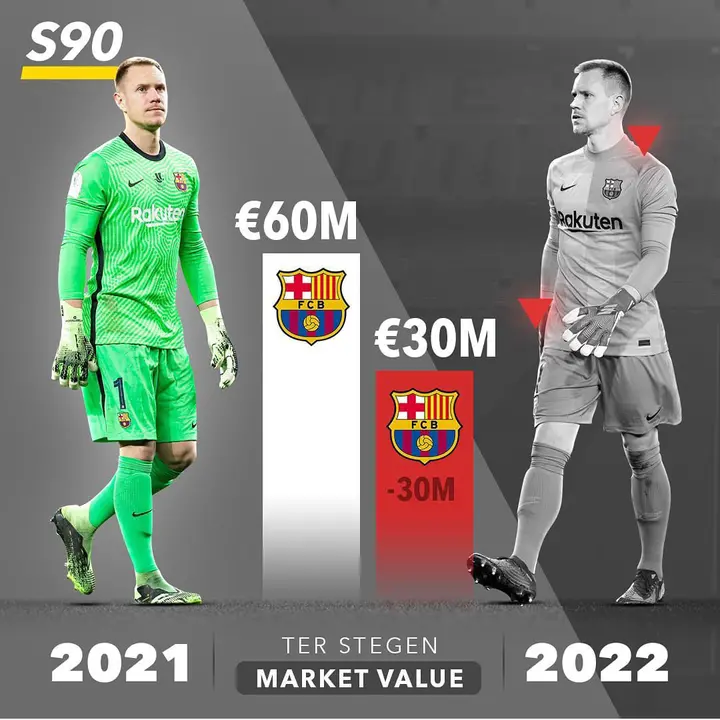 4. Timo Werner
The player was one star in the Bundesliga before he was brought to Chelsea. He has been in and out of form for Chelsea ever since his move to the west London club.
He dropped from €65M in 2021 to €35M in 2022.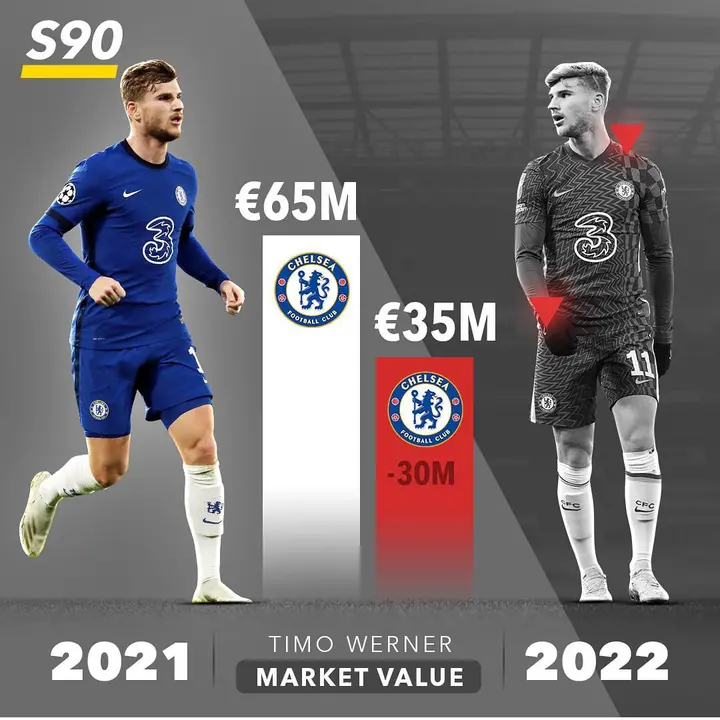 5. Casemiro
He is regarded by many as one of the best defensive midfielders in the history of football.
Age is gradually having an impact on the player. His market valuation is currently €40M from 70M in 2021.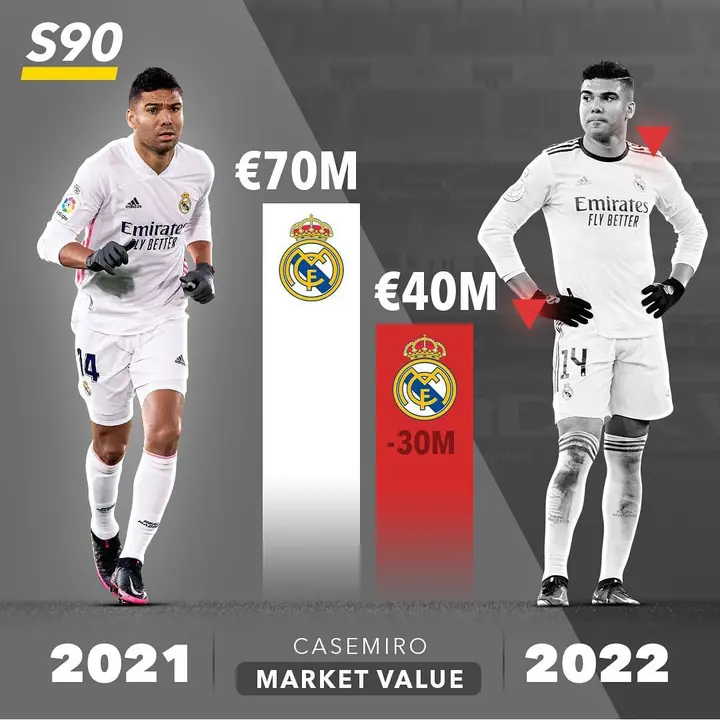 What are your thoughts concerning this?