SPORTS
10 La Liga Players Whose Market Value Increased In The 2021/22 Season
The La Liga competition is now starting to look like it can give birth to young players to become the main stars in their respective clubs.
Even today, players with high market prices are dominated by footballers under the age of 25.
Using transfermarkt's data, here are the ten players with the highest market value in La Liga.
Rodrygo is the reason why Real Madrid were able to win the 2021/22 UEFA champions league title.
His performance for Real Madrid in the La Liga was exceptional and his market value increased significantly by 20 million Euros.
One of the reason why his value increased that much was because of his age.
He is developing very fast and could become a world class player in the next two years of he continues to impress under Carlo Ancelotti.
Three La Liga players whose market value increased by 10 million Euros includes Ronald Araujo, Vencedor and Guillamon.
Part of the reason why Xavi Hernandez was able to guide Barcelona to a second place finish was because their defense improved.
It was Ronald Araujo's presence in the defensive line that made Barcelona Unbeatable.
Vencedor and Guillamon's market value increased not because they scored many goals in the 2021/22 season.
As a matter of fact, both Midfielders didn't score more than a goal in the 2021/22 season but their work rate helped their team's to finished in the first half of La Liga table.
Unal and Reinildo's market value increased by 7 million Euros. This is because of their contribution to their team's success.
However, Valverde, Fekir and Karim Benzema's market value added by 5 million Euros.
Valverde has 3 goal contributions in 46 games for Real Madrid in the 2021/22 season, while his teammate Karim Benzema made 59 goal contributions in 46 games.
The French forward finished as the top scorer of the 2021/22 La Liga and UEFA champions league.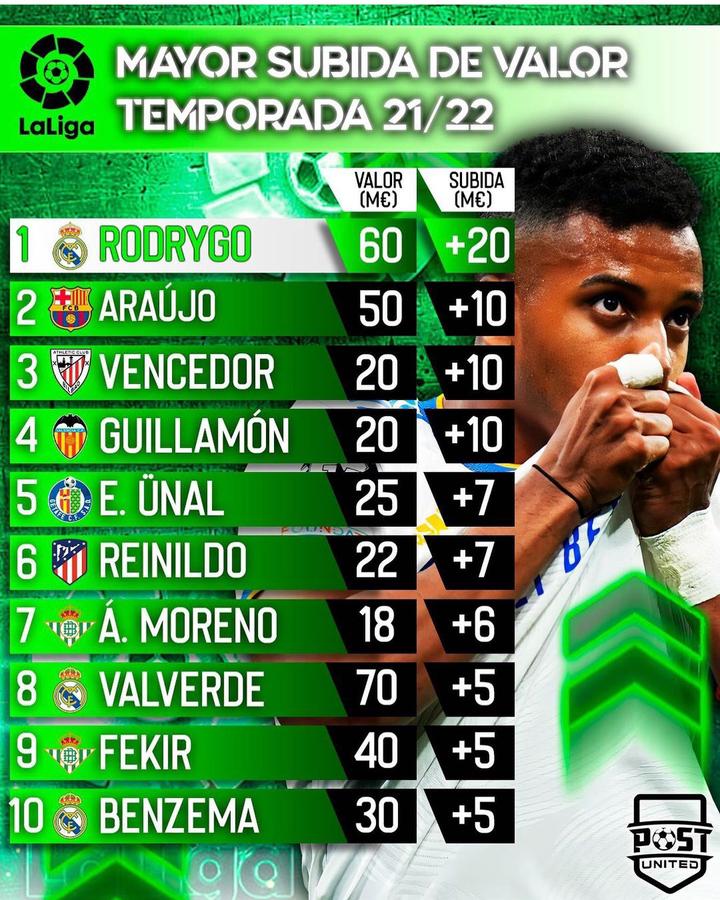 Despite Benzema's age, his market value added because of his incredible performance for Real Madrid this season.
However, Fekir made 20 goal contributions in 47 games for Real Betis.
He is currently one of the best players in the 2021/22 La Liga season as he helped his team to finish in the top six.